In stock hot sale waterproof Fireproof click lock embossed Texture PVC Virgin Material spc flooring tile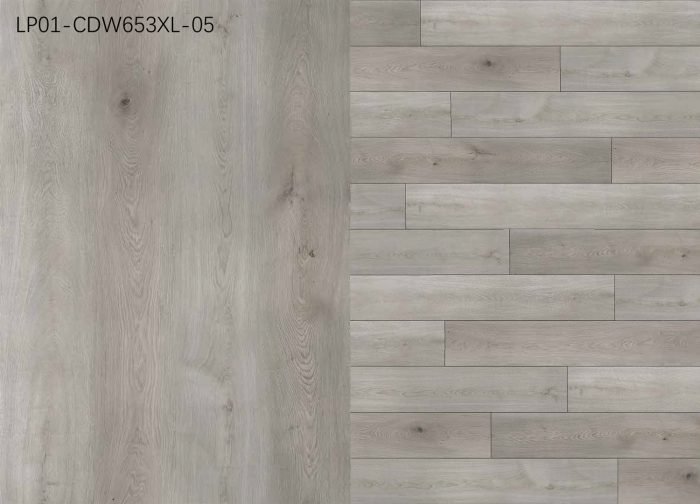 Product Parameter
| | |
| --- | --- |
|  Item | Click Lock SPC Flooring |
|  Size |  6″ x 36″ / 7″X48″ / 9″ x 48″ |
|  Thickness |  4.0mm / 4.5mm / 5.0mm / 5.5mm/ 6.0mm |
|  Wear Layer |  0.3mm / 0.5mm |
|  Surface Treatment |  UV Coating |
|  Surface Texture |  Embossed / Hand-Scraped |
|  Installation |  I4F Click |
|  Features |  Waterproof / Anti-Slip / Wear Resistant / Fire Retardant / Sound Barrier |
|  Advantages |  Easy Click to Install / Labor Costs Saving / Super Stability / Eco Friendly |
|  Warranty |  Reisdential 25 years , Commerical 10 years  |
Product Advantage
1)Waterproof and Dampproof 
As the main component of SPC is stone powder, so it performs well with water, and mildew will not happen with high humidity.
2)Fire Retardant 
According to the authorities, 95% of the victims were burned in the fire caused by the toxic fumes and gases. The fire rating of SPC flooring is NFPA CLASS B. Flame retardant, not spontaneous combustion, leave the flame automatic out in 5 seconds, won't produce toxic of harmful gases.
3)No Formaldehyde 
SPC is high quality stone power & PVC resin, without harmful material such as benzene, formaldehyde, heavy metal.
4)No Heavy Metal, No Lead Salt
The Stabilizer of SPC is Calcium zinc, no lead salt heavy metal.
5) Dimensionally Stable 
Exposed to 80° heat, 6 hours—Shrinkage ≤ 0.1%; Curling ≤ 0.2mm
6) High Abrasion 
SPC flooring has a transparent wear-resisting layer, whose revolution is up and higher than 10000 turns.
7) Superfine Anti-sliping 
SPC flooring has special skid resistance and wear-resisting layer of the floor. Compared with common floor,SPC flooring has higher friction when it's wet.
8) Low requirement of subfloor 
Compared to traditional LVT, SPC flooring has a distinct advantage because it is rigid core, which can hide many imperfections of subfloor.
福娜尔特石塑地板
出口美国市场转内销SPC石塑地板
Fonirte Group is professional manufacturer of quality u-PVC profile , Aluminium profile, windows and SPC flooring, we are engaged research and development, production, sales, real estate development. The group was established in 1998, currently owns total assets of 580 million yuan, with total manufactory construction area of 100,000 square meters, more than 580 employees.
 The introduction of the world's advanced production equipment more than 200 sets, Formation scale of annual output of 300,000 tons of ecological wood-plastic composite materials、aluminum profile、upvc profile and 500,000 sets of Eco-home products.
Fonirte material with zero formaldehyde, waterproof, fireproof, anti moth, sound and thermal insulation, 100% recycling and other characteristics, has both economic and environmental benefits and social benefits, is the national focus on the promotion of "wood" demonstration project, the ecological development of WPC products bring a need to cut down trees the green revolution for the field of building materials.
We offer an extensive array of home improvement products,  Our state-of-the
art automated machinery not only allows us to consistently manufacture to the highest possible standard, but also offer extremely quick and hassle-free turnarounds.We have an experienced design and manufacturing team who are more than happy to cater advice specific to your individual needs, while always ensuring that every aspect of the design process is covered, right through to installation.
Our Vision
To provide our customers with top quality of all extruded profiles in windows/ doors, and we also provide WPC floor, LVT floor, SPC floor, the whole cabinet, closet, bathroom cabinet, architectural templates, outdoor landscape etc. for very competitive prices.
Our Mission Statement
At Fonirte we are committed to provide top quality Eco-friendly and energy efficient u-PVC
windows and doors, SPC flooring, manufactured in Jining by our dedicated and highly experienced staff, using the Germany technology, the art facility and equipment to deliver the Top quality and new designs with the most competitive prices for all our customers.
Fonirte( 福娜尔特)作为集团总公司之一是优质u-PVC型材,铝型材,窗户和SPC地板的专业制造商,我们从事研发,生产,销售,房地产开发。集团成立于1998年,目前拥有总资产5.8亿元,工厂总建筑面积10万平方米,员工580余人。
引进世界先进的生产设备200余台套,形成规模,年产30万吨生态木塑复合材料,铝型材,upvc型材和50万套生态家居产品。

Fonirte材料具有零甲醛,防水,防火,防蛀,隔音和隔热,100%可回收等特点,具有经济和环境效益及社会效益,是国家重点推广的"木材"示范工程, WPC产品的生态发展带来了砍伐树木的需求,这是建筑材料领域的绿色革命。

我们提供广泛的家居装饰产品,
先进的自动化机械不仅使我们能够始终如一地以最高标准进行制造,而且还提供了极为快捷,无忧的周转服务。我们拥有经验丰富的设计和制造团队,他们乐于为您提供个性化的建议,同时从安装到安装,始终确保涵盖设计过程的每个方面。

我们的愿景
为了向客户提供门窗中所有挤出型材的最高质量,我们还提供WPC地板,LVT地板,SPC地板,整个橱柜,壁橱,浴室柜,建筑模板,室外景观等,价格非常具有竞争力。

我们的使命宣言
在Fonirte,我们致力于提供最优质的环保,节能的u-PVC
门窗,SPC地板,由我们敬业且经验丰富的员工在济宁制造,采用德国技术,先进的设施和设备,以最优惠的价格为所有客户提供顶级质量和新颖的设计。

福娜尔特 SPC石塑地板已成为出口美国,加拿大,澳大利亚,欧洲等发达国家的高端家装地板品牌的杰出代表之一。