Upvc Window
According to the latest design style of internation,the window are perfectly combined with modern architecture.opening and closing are showing gorgeous style.
From white to colored profiles, there are many options to make windows and match a buildings setting and create a perfect match.
Film and co-extrusion profiles are vivid and have detailed patterns
Opening a perfect window will show magnificent style
The perfect fusion of Chinese and Western culture, our doors and windows are an industry classic!
Exquisite and detailed work are our aim.
From design to production,we are always adhering to international standard,and paying attention to every details.including to upvc profiles quality,screw ,handle hardware,
Profiles with their special design,in heavy weather damage,they are strong and durable and will not change a trace for years.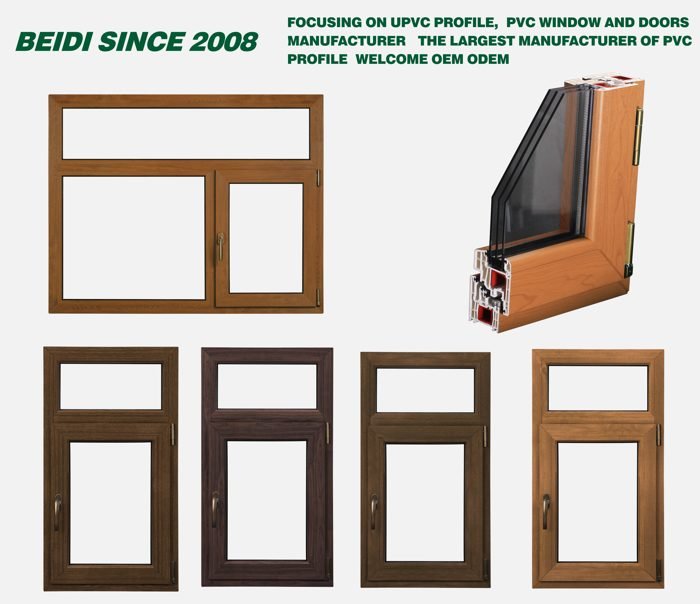 Window sample angle
Many cavities lead the trend of energy saving.and the visible thickness is more than 2.3mm,
Which ensure the profile's welding corner strengthen,and test is frequently.
Using German ROTO brand and HOPPE brand,guarantees that the window can be opened and closed over 150,000 times
The glass dont have scratch and bubble
High quality Steel lines full of cavity make the window more strong
The perfect combination improve your quality of life.
Categories
1. More Than 10 Years Manufacturer Experiences
2. Clients Cover Over 33 Countries
3. Experienced Engineers Offer Best Options
4. Customized design, material, size, color, glass, finish
5. High Quality And Safe Materials
6. Company covers 450,000 square meters
7. With more than 800 employees
8. Annual production capacity of over 100,000 tons
9. Over 5 German technical experts
10. Over 130 Production Lines