PVC profile for window and  doors are the perfect solution for all installation requirements in new buildings, old buildings or for refurbishment projects. Inoutic offers you a wide range of different systems and designs for all types of PVC windows.Just like their matching window sills, they impress with their long useful life, innovative nature and sustainability.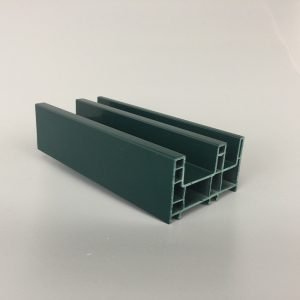 FONIRTE Profile of the design for multiple cavity structure, improve the heat preservation, sound insulboutation function of material itself. With three EPDM sealing strip, the sealing performance is better.
There is an independent drainage cavity, supporting the gauze fan profiles, unique top groove, the sealing is more superior.
The large size of steel lining cavity, and the use of special steel lining in full compliance with inner cavity shape, Increasing the intensity of the window and firm performance.
Through different size glass bead configuration, convenient for selection and installation of different thickness of glass.
The design the profile section size is more reasonable, to meet the requirement of the force of the window.
FONIRTE upvc profiles for window and door will meet your needs to create wonderful house.
We can customize a variety of products, as long as you provide drawings or requirements, we product freezer glass door frame, showcase glass, door frame, PVC door profile etc. And we can provide all kinds of dimension according to customer's drawing, your customized requirements for color, logo, design, package, carton mark and so on is all right, we provide that you can have your own customized product.