In order to shelter the wind and rain, and to meet the needs of living lighting and ventilation, humans invented the doors and windows. Starting from the caverns with the opening of the cave, the history of the development of doors and windows also records the progress of people's pursuit of a better life.
In the history of door and window product development, plastic steel doors and windows are the fourth generation of new door and window products after wooden windows, steel windows and aluminum alloy windows. It is based on polyvinyl chloride (PVC) as a main raw material, plus a certain proportion of stabilizers. Colorants, fillers, UV absorbers, etc., are extruded, and then made into door and window frame fans by cutting and welding, equipped with sealing strips, tops, hardware, etc., and filled in the profile cavity Steel lining to enhance the rigidity and pressure resistance of the profile.
The outer layer of the plastic steel window is mainly made of high-strength anti-oxidation plastic material, and the interior is supplemented by steel. Since the aluminum-plastic material does not conduct heat, and the joints of the good sealing equipment are tight, the plastic-steel window has good sealing and heat-insulating properties, the whole is not deformed, and the surface is not easy to age.
In the current environment of energy conservation and environmental protection, and in response to national energy conservation policies, in line with the needs and trends of social market development, while plastic steel doors and windows have diversification, good sealing effect, UV protection, low price, etc., more and more Recognized by people, it has become the preferred window for more and more builders, real estate developers and the public, especially in the cold winter, windy sand and large areas.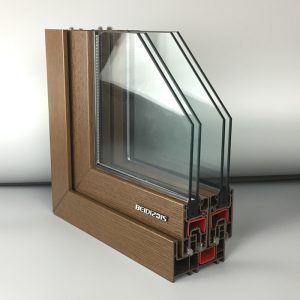 Window development history is in interesting,and thedoors and windows also records the progress of people's pursuit of a better life.