Colourful Upvc Profiles Process approach.It can be processed into any color and pattern, and has excellent weather resistance. It has been widely used.
The two-color co-extruded profiles are mainly coextruded with PVC and ASA plastics and PMMA (plexiglass). ASA plastics have weather resistance, long-term use, color stability, and good compatibility with PC/PVC. PVC and ASA coextrusion have excellent characteristics of ASA with PVC profiles, which overcomes the weather resistance and color stability of color profiles. The shortcomings of insufficient sex, the price of ASA co-extruded profiles and the price of color profiles are roughly equivalent, so it is the mainstream of the development of color profiles in the near stage. PMMA profile history is longer than ASA. Through decades of outdoor use test, it has proved its high weather resistance, chemical resistance, high temperature resistance, high surface hardness and other excellent performance, but also has some shortcomings, and it is PVC. The affinity performance is far less than that of ASA. The deformation or cold and thermal expansion of the PVC substrate will cause the PMMA co-extruded layer to crack and peel off.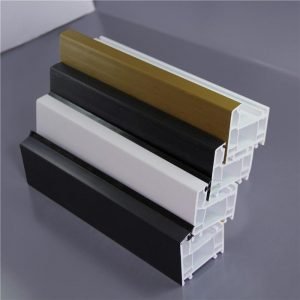 The color film profile is a composite film of fluoroplastic and plexiglass on the surface of the profile. It can be processed into any color and pattern, and has excellent weather resistance. It has been widely used in high-end doors and windows.
Color printing first extrudes a layer of ground color on the surface of the profile, and then prints it. After printing, it is coated with a layer of paint. Because PMMA is both light and wear resistant, the top layer is coated with PMMA. The color printing machine is very expensive, the cost is calculated in meters, the color change is also very slow, the adjustment time of the whole machine is also very long, and the printing on each side of the color printing is very troublesome, thus limiting the color and color. In Germany, it is generally required to have 6-12 colors, which will increase the cost of investment. Although there is also a layer of PMMA in the uppermost layer of color printing, PMMA is generally only 10-15 μm, so the light resistance is not good and it is not wearable. Most color printing does not add a PMMA layer.